Want free shipping? We have something better! Find out more!


The Business of Blends
One area we have been diving into more at The Tea Table is the craft of blends. While we have always offered our own flavored blends, in the last couple years we have ventured further into unflavored ones.
continue...

Natural Pu-Erh First Grade Tea has been added to your basket.
Natural Pu-Erh First Grade Tea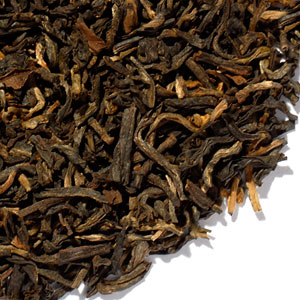 This First Grade Pu-Erh is grown without the use of pesticides and brews a surprisingly dark cup, looking almost like coffee. The flavor is a bit more tame than the appearance, with the trademark Pu-Erh earthiness. Use one teaspoon per cup and steep 3-5 minutes in freshly boiled water.
Average Customer Rating






02/26/2013
I'm an avid pu-erh drinker, and this one is fantastic. The perfect tea for coffee drinkers. Try adding peppermint or spearmint for an interesting flavor sensation!
Number of ratings: 1
Log in
to review this product.