Spicy Chai Tea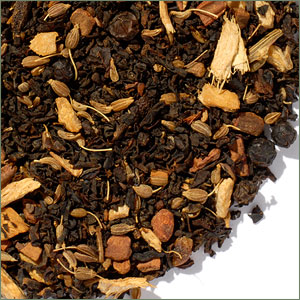 Our Spicy Chai tea is a very flavorful chai that is heavy on the cinnamon and cloves to keep you warm! The flavor holds up well to milk and is wonderful with some sugar or a drop of honey. Contains black tea, aniseed, cinnamon bark, ginger root,black pepper, cloves, chicory root, and flavoring. Be sure to turn your container of chai upside-down a few times as the powdered spices can settle at the bottom of a bag during transit, or over time on a shelf. Use one teaspoon per cup and brew in freshly boiled water for about 4 minutes.
Average Customer Rating






Reviewer: Victoria 05/28/2012
Spicy, complex, and wonderful! Nothing comes close to this tea! Order a sample and see!
09/16/2011
Delicious tea very strong flavor!
Reviewer: Debra 02/12/2014
I am totally hooked on this tea. I like my chai spicy and this does the trick for me. The tea is smooth so the spices sing through beautifully.
Number of ratings: 5
Log in
to review this product.