Free Shipping on Orders of $99 or More! Find out more!
Having trouble logging into your account? Click Here

Roy Kirkham Infuser Mug - Redoute Rose SALE
Covered Mug - Summertime Yellow SALE
Taylors of Harrogate Spiced Christmas Tea - SALE

View current newsletter?

The Perfect Gift!
Our Tea of the Months Clubs come in 4, 6 and 12 shipment options in a variety of plans and now include a Free Bonus Item. The perfect gift that keeps on giving all year long!
continue reading...

Follow Us!
Natural Pu-Erh First Grade Tea has been added to your basket.
Natural Pu-Erh First Grade Tea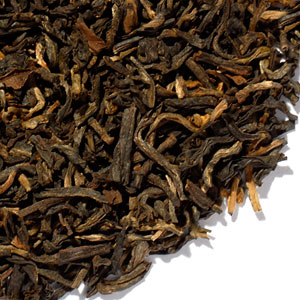 This First Grade Pu-Erh is grown without the use of pesticides and brews a surprisingly dark cup, looking almost like coffee. The flavor is a bit more tame than the appearance, with the trademark Pu-Erh earthiness. Use one teaspoon per cup and steep 3-5 minutes in freshly boiled water.
Average Customer Rating





07/29/2013
I found that this tea had a slight fishy aroma that I couldn't get over. I will try it again, but that aroma just turned me off.
02/26/2013
I'm an avid pu-erh drinker, and this one is fantastic. The perfect tea for coffee drinkers. Try adding peppermint or spearmint for an interesting flavor sensation!
Number of ratings: 2
Log in
to review this product.