Want free shipping? We have something better! Find out more!


The Business of Blends
One area we have been diving into more at The Tea Table is the craft of blends. While we have always offered our own flavored blends, in the last couple years we have ventured further into unflavored ones.
continue...

Mango Mist Tea has been added to your basket.
Mango Mist Tea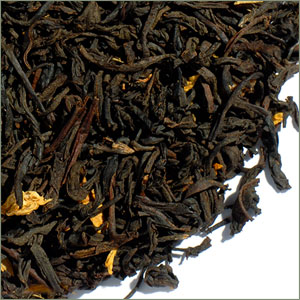 Mango Mist Tea combines high-grown Ceylon from the Nuwara Eliya, Dimbula, and Uva regions with natural dried mango, freeze-dried mango, lime leaves, calendula and sunflower petals, natural flavors. Fresh, piquant mango character, especially good for iced tea! Use 1 tsp. per cup and brew 3-5 minutes in freshly boiled water.

About mangoes: Mango, sometimes known as the "king of fruit," is one of the most commonly consumed tropical fruits in the world. They were originally grown in East India, Burma, and the Andaman Islands, around the 5th century B.C., but are now cultivated in just about every warm corner of the globe. Besides being pulpy sweet and delicious, mangoes have long been associated in the Eastern world with peace, tranquility, and harmony. Legend has it that the Buddha himself would often seek repose in a grove of mango trees. In certain parts of India it was believed that mango trees were sacred, and a symbol of love – some even believed that mango trees could grant wishes. Even to this day Hindus hang fresh leaves from mango trees outside their doors during Ponggol, the Hindu New Year, as a blessing for peace in the New Year.
Average Customer Rating






Reviewer: Colin 02/08/2013
This is hands-down one of, if not the best fruit-enhanced teas I have ever tasted. The Ceylon is very present and the mango is as well, there are no off flavors or bitter tanins to detract from this tea. The mango tastes very clean and authentic, and you get all of the flavor profiles it has to offer. If you like mango, get this tea. It's unbelievably delicious.
Number of ratings: 1
Log in
to review this product.