Want free shipping? We have something better! Find out more!


The Business of Blends
One area we have been diving into more at The Tea Table is the craft of blends. While we have always offered our own flavored blends, in the last couple years we have ventured further into unflavored ones.
continue...

Jasmine with Flowers Tea has been added to your basket.
Jasmine with Flowers Tea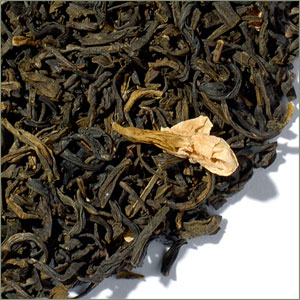 Jasmine with Flowers Tea is our lightest-scented jasmine tea. Jasmine flowers are layered between the leaves during the drying process, imparting the leaves with their delicate scent. Use one teaspoon per cup and steep about three minutes in steaming water.
Average Customer Rating





Reviewer: Pietro 02/04/2012
Honey-yellow color. Sweet, flowery aroma. Light, delicate flavors. Some slightly bitter notes. Clean finish. An awakening, yet calming, meditative tea.
Number of ratings: 1
Log in
to review this product.