Free Shipping on Orders of $99 or More! Find out more!
Having trouble logging into your account? Click Here

Roy Kirkham Infuser Mug - Redoute Rose SALE
Covered Mug - Summertime Yellow SALE
Taylors of Harrogate Spiced Christmas Tea - SALE

View current newsletter?

The Perfect Gift!
Our Tea of the Months Clubs come in 4, 6 and 12 shipment options in a variety of plans and now include a Free Bonus Item. The perfect gift that keeps on giving all year long!
continue reading...

Follow Us!
Drum Mountain White Cloud Tea has been added to your basket.
Drum Mountain White Cloud Tea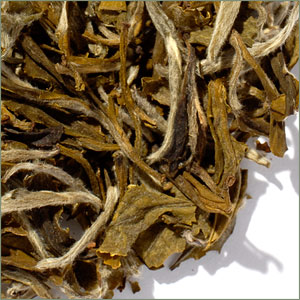 Drum Mountain White Cloud white tea is grown today on the very mountain tops where the monks of the historic Buddhist Drum Mountain Monastery grew their teas for centuries. This tea is highly aromatic with a sweet, slightly nutty and mildly fruity flavor. Use 2 heaping soup spoons per cup and steep 5-7 minutes in steaming water. Good for multiple infusions. A sample is available for $1.50.
Average Customer Rating






10/23/2013
If you want a parallel of this tea, it's a lighter, subtler, more complex version of the chun mee tai pan superior green tea. Great tea for the price. It's very grassy for a white, but I like that [nowhere near as grassy as a sencha green though, so there's no "fishyness"]
Reviewer: Jennifer 07/29/2013
I loved this one! I put it in the bottom of the cup so it could expand, and it was fresh and mild and grassy. I would buy again.
Reviewer: chuck 01/27/2013
Amazing. Actually has a better taste on the 2nd infusion
Number of ratings: 5
Log in
to review this product.