Hojicha Tea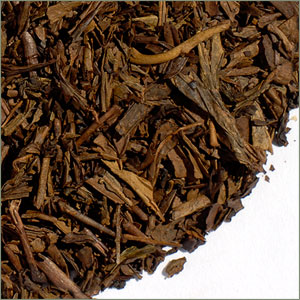 Hojicha is a roasted green tea, made from Japanese Bancha. The nut brown leaves infuse to a golden brown cup with a toasty aroma and a mellow, nutty-earthy taste. Goes well with meals. Often appeals to coffee lovers. Use 2 heaping teaspoons per cup and steep 2 minutes in near boiling water.
Average Customer Rating






Reviewer: Nick 09/27/2010
The Tea Table has the best Hojicha that I have ever tasted, and I have been ordering this tea from other companies steadily for five years.
11/03/2013
I really love a cup of hojicha first thing every morning and lst thing every night
Reviewer: Jessica 11/15/2012
This hojicha is absolutely wonderful. I went through my first bag way too fast, and immediately came back to the site for more.
Number of ratings: 3
Log in
to review this product.