Decaffeinated Flowery Pekoe Tea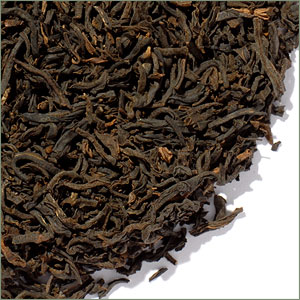 A medium-bodied, naturally decaffeinated tea from Sri Lanka, with a lovely coppery cup color and fruity notes. Great for any time of day. Use 1 tsp. per cup and brew 3 minutes in freshly boiled water.

Our decaffeinated teas are naturally decaffeinated using a process that removes caffeine without using chemicals of any sort. The freshly plucked tea leaves are briefly soaked in water and gently flushed with carbon dioxide (CO2). The CO2 binds to the caffeine molecules and extracts them from the tea, leaving behind all the natural proteins that give tea its flavor. It also leaves many of the polyphenols and antioxidants intact, so it's still good for you.
Average Customer Rating






Reviewer: John 03/24/2012
I ordered only a sample of this because I was afraid that it would not have the full flavor and body I look for in a decaf tea. The sample came earlier this week and I couldn't wait to brew it up. Once I did, I was rewareded with a nice dark tea with a slightly sweet flavor. This has become a new favorite of mine.
Reviewer: Gary 08/15/2013
This is by far my favorite black tea! I still prefer Assam with breakfast, but this tea has a very pleasant taste and aroma, and I enjoy it in the afternoon and evening.
Number of ratings: 2
Log in
to review this product.