Ayurvedic Anti-Strain Tea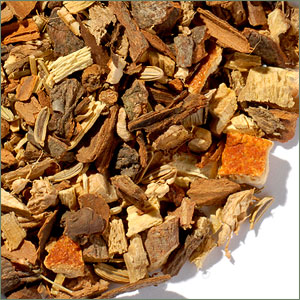 The rich and slightly sweet aroma of Ayurvedic Anti-Strain Tea makes this tea an ideal companion for anyone who needs soothing! A caffeine-free combination of cinnamon, licorice, ginger root, fennel, orange peel, and cardamom. The naturally sweet taste is due to the licorice. Use one teaspoon per cup and steep 5-10 minutes in freshly boiled water.
Average Customer Rating






10/14/2010
Tastes like licorice candy. If you like black licorice you will enjoy this tea. It tastes great. My favorite tea.
09/27/2010
One of the best detox teas that I have tasted.
Reviewer: Beth 01/20/2013
This is my favorite end-of-the-day tea. The warmth of the spices and the sweet of the licorice is as good as a night cap.
Number of ratings: 3
Log in
to review this product.