Yunnan Golden Buds (Zhen Qu) Tea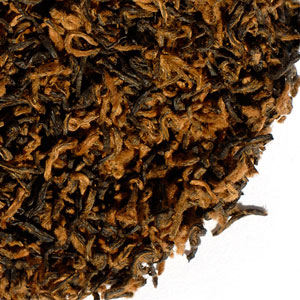 Yunnan Golden Buds (also known as Zhen Qu) may be a Yunnan, but it has a dark cocoa taste more commonly associated with Fujian "Golden Monkey" teas. Particularly sensitive to palate, it can taste quite different from moment to moment. The sign of a truly fine, complex tea. Yunnan Golden Buds is something of a tea drinking adventure. Use 1 tsp of leaves and brew 3-5 minutes in freshly boiled water.
Average Customer Rating






Reviewer: Gale 01/15/2014
I was buying this from a local vendor at a higher price when I inquired about it through customer service. This tea is excellent and at a lower cost which means I can enjoy it more often. Good warm, cold with or without milk! Different from other black teas for an enjoyable change in routine.
Reviewer: margie 09/06/2012
One of my favorite teas
Number of ratings: 3
Log in
to review this product.