Rooibos Tea Sampler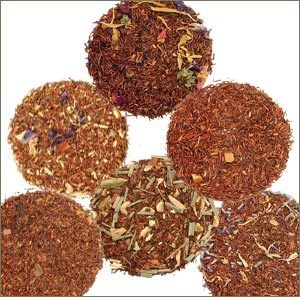 If you're new to rooibos, or have only tried it plain, our Rooibos Tea Sampler will let you know what you've been missing! Contains our most popular flavored rooibos blends: 2 ounces each of teas such as Rooibos Chai, Rooibos Cream Caramel, Rooibos Orange Cream, Green Rooibos Oasis, and Bourbon Street Vanilla Rooibos. All are caffeine-free. Packaged in foil bags.

Rooibos (pronounced "roy bus") is made from the needle-like leaves of a caffeine-free bush native to South Africa. It is oxidized like black tea, and is a popular alternative to decaffeinated black tea. Good both hot and cold, it has a mild flavor and won't turn bitter with extended brewing.

Log in to review this product.