Egyptian Chamomile Tea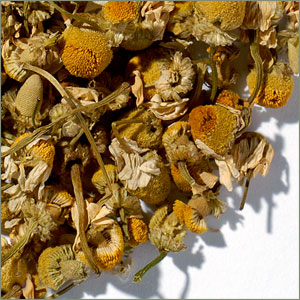 There are several varieties and countries of origin of chamomile - sometimes referred to as "bachelor buttons" because of the shape of the flower heads - but the best quality comes from the Nile River delta in Egypt. The sandy loam and nutrients from the Nile create perfect growing conditions. Chamomile flowers have a yellow center and white petals - they almost look like a daisy.The essential oils in the flowers produce a pleasant soothing aroma and a fruity character. The word "chamomile" derives from ancient Greek and translates as "ground apple" in reference to the fruity aroma.

Use a heaping teaspoon per cup and steep in freshly boiled water for 5-10 minutes.
Average Customer Rating






Reviewer: Matthew 02/10/2013
Excellent tea, light and fruity. Difficult to dislike, so if you are unsure you should just try some.
Number of ratings: 1
Log in
to review this product.