Finding Coupons:
We almost always have an active coupon code, usually for savings on loose leaf tea.  It can always be found on the main page of our site, or in the banner at the top of every page.
Entering a Coupon Code:
The coupon code area is at the top of the shopping cart.  Each time you add any item(s) to your cart, you will be taken to the cart, where the coupon entry area is found.  Be certain to have at least one valid product in your cart (usually a retail bag of loose leaf tea), then enter the coupon code, and be certain to click on the "Redeem" button before continuing.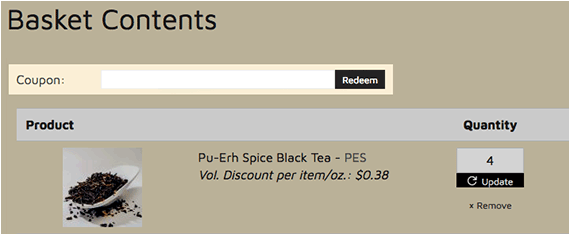 Once items have been added to your cart, you can also click on the cart icon at the top right of any page and select "Checkout/Edit Order" to go to the cart and see the coupon code entry area shown in the image above.
Viewing Your Discount(s):
Once you enter a valid code and click on "Redeem", the coupon will appear above the coupon entry area, and the discount will appear in the description of every discounted item.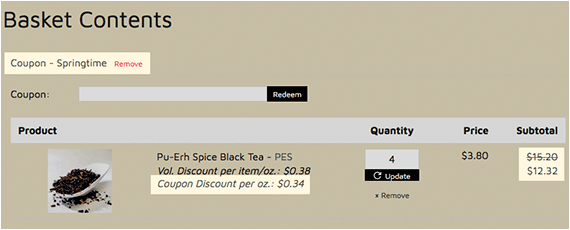 As you continue checkout, the coupon and discount will also appear in the basket summary at each step.
Finally, the coupon entered will be verified in your email order confirmation, at the top right, along with the other order summary information.