Want free shipping? We have something better! Find out more!


The Business of Blends
One area we have been diving into more at The Tea Table is the craft of blends. While we have always offered our own flavored blends, in the last couple years we have ventured further into unflavored ones.
continue...

Yunnan Supreme Golden Tips has been added to your basket.
Yunnan Supreme Golden Tips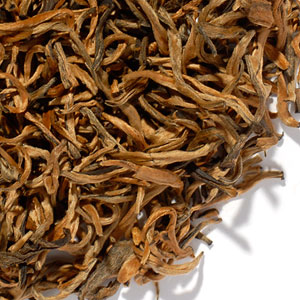 From the Yunnan Province in China, Yunnan Supreme Golden Tips is a sublime, complex tea, perfect for the black tea connoisseur or Yunnan fan. Made entirely of golden tips or buds, this tea brews to a deep copper color and remains silky smooth without any astringency. Lori's new favorite! Use one heaping tsp. per cup and steep 4-5 minutes in freshly boiled water. Try a second infusion.
Average Customer Rating






Reviewer: Steven 08/22/2012
A most beautiful tea. So very smooth as to lack some of the character of the golden Yunnan's. Would be a great blending tea to ease astringency and to add honey flavors.
Number of ratings: 2
Log in
to review this product.