Free Shipping on Orders of $99 or More! Find out more!
Having trouble logging into your account? Click Here

Tea of the Month Club - Holiday Special
Covered Mug - Summertime Yellow SALE
Taylors of Harrogate Spiced Christmas Tea - SALE

View current newsletter?

The Perfect Gift!
Our Tea of the Months Clubs come in 4, 6 and 12 shipment options in a variety of plans and now include a Free Bonus Item. The perfect gift that keeps on giving all year long!
continue reading...

Follow Us!
Spicy Chai Tea has been added to your basket.
Spicy Chai Tea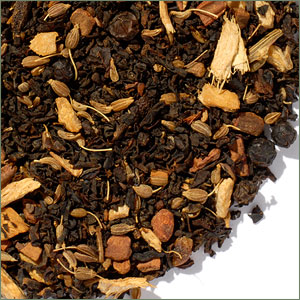 Our Spicy Chai tea is a very flavorful chai that is heavy on the cinnamon and cloves to keep you warm! The flavor holds up well to milk and is wonderful with some sugar or a drop of honey. Contains black tea, aniseed, cinnamon bark, ginger root, black pepper, cloves, chicory root, and flavoring. Be sure to turn your container of chai upside-down a few times as the powdered spices can settle at the bottom of a bag during transit, or over time on a shelf. Use one teaspoon per cup and brew in freshly boiled water for about 4 minutes.
Average Customer Rating






Reviewer: Victoria 05/28/2012
Spicy, complex, and wonderful! Nothing comes close to this tea! Order a sample and see!
09/16/2011
Delicious tea very strong flavor!
Number of ratings: 4
Log in
to review this product.