Want free shipping? We have something better! Find out more!


The Business of Blends
One area we have been diving into more at The Tea Table is the craft of blends. While we have always offered our own flavored blends, in the last couple years we have ventured further into unflavored ones.
continue...

Shalimar Oolong Tea has been added to your basket.
Shalimar Oolong Tea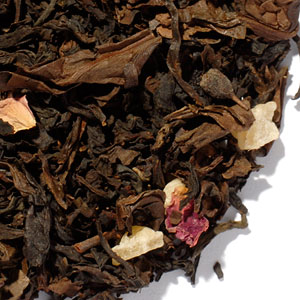 Shalimar Oolong Tea is a lovely Formosa (referring to Taiwan) Oolong with a light passion fruit flavor. Won 2nd place at the World Tea Expo 2008 Flavored Oolong competition! Ingredients: Oolong tea from Taiwan, aronia berries, dried mango, rose petals and flavoring. Use 1 tsp. per cup and steep 2-3 minutes in steaming water.
Average Customer Rating





12/01/2012
This a smooth oolong with a splash of berry and mango. It makes an excellent iced tea.
Number of ratings: 2
Log in
to review this product.