Free Shipping on Orders of $99 or More! Find out more!
Having trouble logging into your account? Click Here

Roy Kirkham Infuser Mug - Redoute Rose SALE
Covered Mug - Summertime Yellow SALE
Taylors of Harrogate Spiced Christmas Tea - SALE

View current newsletter?

The Perfect Gift!
Our Tea of the Months Clubs come in 4, 6 and 12 shipment options in a variety of plans and now include a Free Bonus Item. The perfect gift that keeps on giving all year long!
continue reading...

Follow Us!
Natural Rooibos Tea has been added to your basket.
Natural Rooibos Tea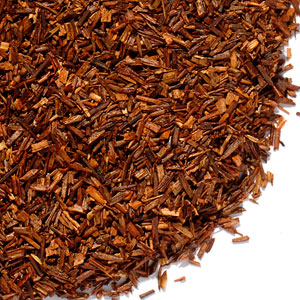 Natural Rooibos Tea is a superior grade of rooibos from the Cedarburg region of South Africa, farmed without pesticides. Caffeine-free. Use 1 tsp. per cup and steep 5-10 minutes in freshly boiled water.

Rooibos (pronounced "roy bus") is made from the needle-like leaves of a caffeine-free bush native to South Africa. It is oxidized like black tea, and is a popular alternative to decaffeinated black tea. Good both hot and cold, it has a mild flavor and won't turn bitter with extended brewing.
Average Customer Rating






Reviewer: Jennifer 07/29/2013
This is the reason I found this site. I love the flavor of this tea and I find that it really settles the stomach and is great for anyone suffering from IBS! Couldn't recommend it more!
Number of ratings: 2
Log in
to review this product.