Free Shipping on Orders of $99 or More! Find out more!
Having trouble logging into your account? Click Here

Roy Kirkham Infuser Mug - Redoute Rose SALE
Covered Mug - Summertime Yellow SALE
Taylors of Harrogate Spiced Christmas Tea - SALE

View current newsletter?

The Perfect Gift!
Our Tea of the Months Clubs come in 4, 6 and 12 shipment options in a variety of plans and now include a Free Bonus Item. The perfect gift that keeps on giving all year long!
continue reading...

Follow Us!
Moroccan Mint Tea has been added to your basket.
Moroccan Mint Tea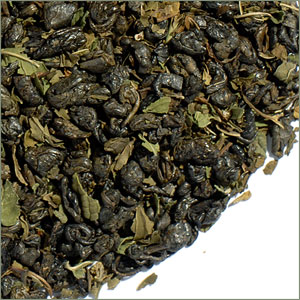 Moroccan Mint Tea
is a blend of China gunpowder green tea with spearmint. Good hot or for iced tea. (See our
"How to Make Iced Tea"
section.) Use 1/2 tsp per cup and steep 1 min. in near boiling water.
Moroccan tea culture is defined by the way tea (exclusively green tea) is prepared and consumed in Morocco, where it is widely consumed with food. The tradition has also spread throughout North Africa, parts of the Sahel, and southern Spain. Tea occupies a very important place in Moroccan culture and is considered an art form. Morocco is one of the biggest tea importers of the world. Moroccan-style mint tea is now commonly served all through North Africa. It is served not only at mealtimes but all through the day, and it is especially a drink of hospitality, commonly served whenever there are guests. Unlike Moroccan food, cooked by women, this tea is traditionally a man's affair: prepared by the head of the family, it is served to guests, and it is impolite to refuse it. Source:
Wikipedia
;
License
.
Average Customer Rating





Reviewer: andy 11/26/2011
This is a very nice tea. This is my after work tea, Very relaxing. Would re-order this.
02/17/2013
Huge disappointment! Despite being very light on mint notes, even the tea flavor does not shine through. Metallic finish. Thought the issue was with the recommended brew time of 1 minute, but increasing to 2 minutes did not help. Would not buy again. Hard to say it, but recommend Stash over this blend.
Reviewer: Matthew 02/10/2013
Very delicious and relaxing. The gunpowder tea is perfect with the mint. I also agree about the tiny particles that make it through the mesh strainer but they don't bother me very much [not enough to notice them at least] Definitely recommended
Number of ratings: 5
Log in
to review this product.