Free Shipping on Orders of $99 or More! Find out more!
Having trouble logging into your account? Click Here

Cafe Style Glass Teapot w/infuser

View current newsletter?

The Perfect Gift!
Our Tea of the Months Clubs come in 4, 6 and 12 shipment options in a variety of plans and now include a Free Bonus Item. The perfect gift that keeps on giving all year long!
continue reading...

Follow Us!
Masala Chai Tea has been added to your basket.
Masala Chai Tea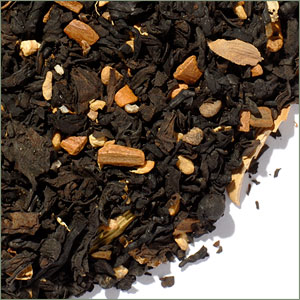 Chai is typically made using a rich black tea, usually an Assam, and is traditionally brewed in heavy milk with a mixture of spices. Each recipe can be different depending upon the spices used. Indian chai is often referred to as Masala Chai. The word "chai" literally means "tea." Different languages use various forms of this word - for example Portuguese call it "cha," Hindus call it "chai," and in Chinese the sound of the symbol for tea sounds very much like "cha." "Masala" is the word for the mixture of the various spices - hence Masala Chai.

Our new Masala Chai has a more complex, traditional Masala flavor and is somewhat less peppery than the old version and is considerably less expensive. Black tea flavored with ginger root, cinnamon, green cardamom, ginger and vanilla flavor. Use one teaspoon per cut of fresh boiling water and steep for 3-5 minutes.
Average Customer Rating







Number of ratings: 5

Log in
to review this product.