Want free shipping? We have something better! Find out more!


The Business of Blends
One area we have been diving into more at The Tea Table is the craft of blends. While we have always offered our own flavored blends, in the last couple years we have ventured further into unflavored ones.
continue...

Hot Cinnamon Spice Tea has been added to your basket.
Hot Cinnamon Spice Tea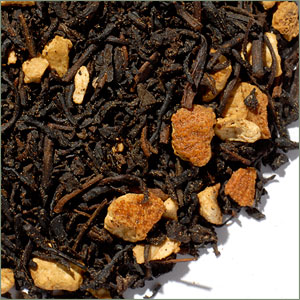 A wonderfully spicy and flavorful black tea blend with three types of cinnamon, orange peel, and sweet cloves. It is remarkably assertive, and that is its most admired quality. Use one teaspoon per cup and steep 3-5 minutes in freshly boiled water.
Average Customer Rating




02/01/2013
This makes the best iced tea I've ever had. No sugar needed.
Reviewer: Candace 11/16/2012
I hated this one. Tasted like a fireball. Perhaps would be good if you were sick or mixing with rum. I mixed it half and half with an unflavored black and it was too overpowering with none of the subtle complexities of my favorite teas. I tried adding cream. Nothing made it better. I love the sample sizes. I only committed to 2 small pots.
Number of ratings: 2
Log in
to review this product.