Free Shipping on Orders of $99 or More! Find out more!
Having trouble logging into your account? Click Here

Tea of the Month Club - Winter Special
Roy Kirkham Infuser Mug - English Roses SALE
Roy Kirkham Infuser Mug - Redoute Rose SALE

View current newsletter?

Is it really in stock? Yes It Is!
In recent years, and especially the last several months, I've been receiving the same question from new customers. "Is what I want really in stock? The simple answer in our case is," YES, it is in stock."
continue reading...

Follow Us!
Green Rooibos Oasis Tea has been added to your basket.
Green Rooibos Oasis Tea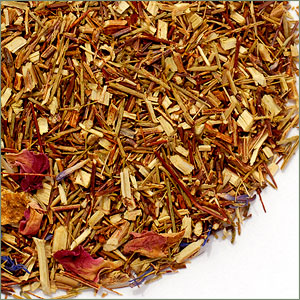 Green Rooibos Oasis
is called "green" because it isn't oxidized (like green tea). A bit lighter tasting than regular rooibos, this blend contains green rooibos, orange peels, sunflower petals and natural peach, strawberry and orange flavor. Caffeine-free. Great for iced tea. (See our
"How to Make Iced Tea"
section.) Our best selling herbal infusion. Use 1 tsp. per cup and steep 5-10 minutes in freshly boiled water.
Rooibos (pronounced "roy bus") is made from the needle-like leaves of a caffeine-free bush native to South Africa. It is oxidized like black tea, and is a popular alternative to decaffeinated black tea. Good both hot and cold, it has a mild flavor and won't turn bitter with extended brewing.
Average Customer Rating







Number of ratings: 5

Log in
to review this product.