Want free shipping? We have something better! Find out more!


The Business of Blends
One area we have been diving into more at The Tea Table is the craft of blends. While we have always offered our own flavored blends, in the last couple years we have ventured further into unflavored ones.
continue...

Five O'Clock Tea has been added to your basket.
Five O'Clock Tea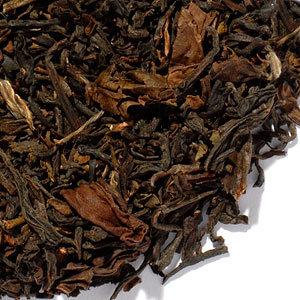 Our Five O'Clock Tea is a special House Blend of large leaf, single estate Darjeeling, highland Ceylon, and Oolong teas. This tea is so complex and tasty, we can hardly believe it is a blend. Very light and refreshing flavor with a delicate sweetness, just perfect for afternoon tea parties but great any time of day. Use one slightly heaping teaspoon per cup and steep three minutes (maximum) in nearly boiling (190 degree or less) water.

Five O'Clock Tea is rather sensitive to how it is steeped and should yield absolutely no astringency when prepared properly. It is definitely worth the extra care.
Average Customer Rating





Reviewer: woodie 11/19/2011
I tried the sample of the Five O'Clock tea it's brisk and light and it's a good basic black afternoon tea.
Reviewer: Heidi 03/25/2013
This has become my favorite basic tea. Morning or after work it is a great anytime tea.
Reviewer: Candace 03/04/2013
I didn't care for this one at all. I'm not a huge fan of Ceylon but with the mixture I wanted to give it a chance. High astringency. I'm typically a 3:30 seeper. Tried 3 and it was still bitter but just not as strong. The blend was too basic black Lipton to me. I hoped for more Oolong in it.
Reviewer: Daniel 01/14/2013
Fantastic taste for morning or afternoon. One of my favorites.
Reviewer: MEREDITH 12/11/2012
I tried the previous Five O'clock Tea and really didn't care for it. Never been a fan of Ceylon teas. I saw it was being blended differently, thought I'd give it a 2nd chance and requested a sample with my last order and WOW! I'm definitely putting this on my favorite list and ordering a jar full of this!
Reviewer: Sadie 08/11/2012
One of my favorite afternoon teas. Wonderful relaxing flavor
Number of ratings: 9
Log in
to review this product.