Want free shipping? We have something better! Find out more!


The Business of Blends
One area we have been diving into more at The Tea Table is the craft of blends. While we have always offered our own flavored blends, in the last couple years we have ventured further into unflavored ones.
continue...

Decaffeinated Chai Tea has been added to your basket.
Decaffeinated Chai Tea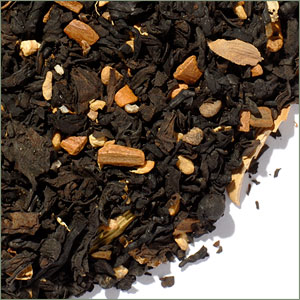 Our new Decaffeinated Chai has a more complex, traditional Masala flavor and is somewhat less peppery than the old version. Plus it is considerably less expensive. Decaffeinated black tea flavored with ginger root, cinnamon, green cardamom, ginger and vanilla flavor. Use one teaspoon per cut of fresh boiling water and steep for 3-5 minutes.

Our decaffeinated teas are naturally decaffeinated using a process that removes caffeine without using chemicals of any sort. The freshly plucked tea leaves are briefly soaked in water and gently flushed with carbon dioxide (CO2). The CO2 binds to the caffeine molecules and extracts them from the tea, leaving behind all the natural proteins that give tea its flavor. It also leaves many of the polyphenols and antioxidants intact, so it's still good for you.
Average Customer Rating




Number of ratings: 1

Log in
to review this product.