Want free shipping? We have something better! Find out more!


The Business of Blends
One area we have been diving into more at The Tea Table is the craft of blends. While we have always offered our own flavored blends, in the last couple years we have ventured further into unflavored ones.
continue...

Decaffeinated Assam Tea has been added to your basket.
Decaffeinated Assam Tea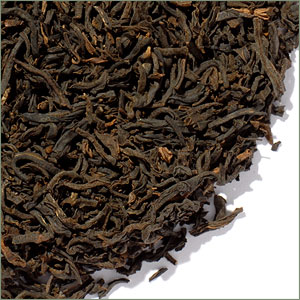 Our Decaffeinated Assam brews a copper-colored infusion with good full-bodied character and a nice maltiness, typical of Assam teas. Naturally decaffeinated with CO2. Use one teaspoon per cup and steep 3 minutes in freshly boiled water. Takes milk and sugar well.

Our decaffeinated teas are naturally decaffeinated using a process that removes caffeine without using chemicals of any sort. The freshly plucked tea leaves are briefly soaked in water and gently flushed with carbon dioxide (CO2). The CO2 binds to the caffeine molecules and extracts them from the tea leaving behind all the natural proteins that give tea its flavor. It also leaves many of the polyphenols and antioxidants intact, so it's still good for you.

About Assam: Much as the Romans planted vineyards throughout their empire, the British, during colonial times, planted tea in India, Sri Lanka, and Africa. It could be argued that the finest of this tea is grown in Assam, a northeastern province of India. Home to some of the world's most fertile tea plantations, Assam is sandwiched into a region that borders on China, Burma, and Bangladesh. The first plantation was planted there by British settlers in 1837. The British found that Assam's growing conditions were absolutely perfect for tea, being that daytime temperatures there can reach over 100 degrees Fahrenheit. The temperature, combined with an extremely wet topography due to its situation nearby the Brahmaputra River, create what can only be described as a natural greenhouse. When the British first arrived in the area, this natural greenhouse was responsible for growing wild tea plants that measured more than 60 feet tall! Tea bushes in Assam, as they are in all tea growing regions, are now trimmed to grow to about 3.5 feet tall. This height is preferred so that the pluckers can easily reach the best leaf - the top bud and two leaves growing below it. It is this leaf that produces the best Assam tea.


Average Customer Rating





Reviewer: Matthew 01/07/2011
I use this for ice tea, about a gallon every two days between my wife and I. Very nice flavor and leaves work great in ice tea machine. 3 1/2 tbs per gallon has worked well.
07/05/2012
Not bad at all for a decaf tea. I love a strong assam and was hoping for some depth of flavour with this decaf. It delivered, so now we have another choice for late night tea. It still has that decaf flavour, but is balanced by the good quality of this assam.
Number of ratings: 4
Log in
to review this product.