Free Shipping on Orders of $99 or More! Find out more!
Having trouble logging into your account? Click Here

Roy Kirkham Infuser Mug - Redoute Rose SALE
Covered Mug - Summertime Yellow SALE
Taylors of Harrogate Spiced Christmas Tea - SALE

View current newsletter?

The Perfect Gift!
Our Tea of the Months Clubs come in 4, 6 and 12 shipment options in a variety of plans and now include a Free Bonus Item. The perfect gift that keeps on giving all year long!
continue reading...

Follow Us!
Decaffeinated Chocolate Mint Black Tea has been added to your basket.
Decaffeinated Chocolate Mint Black Tea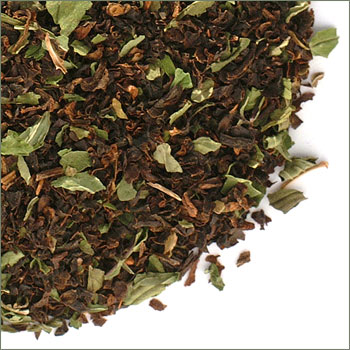 Made at the request of a local tea room, our Decaffeinated Chocolate Mint Black Tea is a delicious blend of decaffeinated black tea, peppermint, chocolate pieces, and flavoring. It brews a cup of tea with a rich, creamy, chocolate aroma and a mild minty taste that is just right after dinner. Try adding milk for an even creamier treat! Use one teaspoon per cup and steep 3-5 minutes.

Our decaffeinated teas are naturally decaffeinated using a process that removes caffeine without using chemicals of any sort. The freshly plucked tea leaves are briefly soaked in water and gently flushed with carbon dioxide (CO2). The CO2 binds to the caffeine molecules and extracts them from the tea, leaving behind all the natural proteins that give tea its flavor. It also leaves many of the polyphenols and antioxidants intact, so it's still good for you.
Average Customer Rating






Reviewer: Amy 09/01/2010
It smells wonderful [just like an Andes mint, and it tastes even better. I can't even tell it's decaf.
Number of ratings: 1
Log in
to review this product.