Free Shipping on Orders of $99 or More! Find out more!
Having trouble logging into your account? Click Here

Roy Kirkham Infuser Mug - Redoute Rose SALE
Covered Mug - Summertime Yellow SALE
Taylors of Harrogate Spiced Christmas Tea - SALE

View current newsletter?

The Perfect Gift!
Our Tea of the Months Clubs come in 4, 6 and 12 shipment options in a variety of plans and now include a Free Bonus Item. The perfect gift that keeps on giving all year long!
continue reading...

Follow Us!
Caramel Cherry Cheesecake Tea has been added to your basket.
Caramel Cherry Cheesecake Tea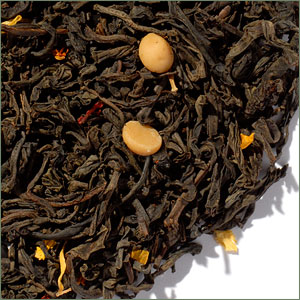 Most of us are familiar with how delicious caramel apples are, but have you ever tried a caramel cherry? Caramel Cherry Cheesecake Tea combines high-grown Ceylon black tea, sweet creamy caramel notes, and hints of cherry to allow you to enjoy the flavor of a caramel cherry. The Ceylon itself has a floral touch, but combining it with the sweet favor of freshly-picked cherries and the buttery goodness of caramel makes for a truly delicious mix. Contains butterscotch chips (dairy), sweetened cranberries, calendula, sunflower, and safflower petals, and natural flavors. Use one teaspoon per cup and steep 3 minutes in freshly boiled water.
Average Customer Rating




04/05/2012
*smidge of sugar and splash of milk this is a fabulously sweet treat
Reviewer: Stephanie 07/16/2011
I will admit to being very new to loose leaf teas but I really enjoyed this tea. It's not really sweet. I got more sweet cherry than caramel tones from it but it is very very tasty I can see this becoming a staple of mine as I study for my finals :D
Number of ratings: 1
Log in
to review this product.