Free Shipping on Orders of $99 or More! Find out more!
Having trouble logging into your account? Click Here

Roy Kirkham Infuser Mug - Redoute Rose SALE
Covered Mug - Summertime Yellow SALE
Taylors of Harrogate Spiced Christmas Tea - SALE

View current newsletter?

The Perfect Gift!
Our Tea of the Months Clubs come in 4, 6 and 12 shipment options in a variety of plans and now include a Free Bonus Item. The perfect gift that keeps on giving all year long!
continue reading...

Follow Us!
Ayurvedic Anti-Strain Tea has been added to your basket.
Ayurvedic Anti-Strain Tea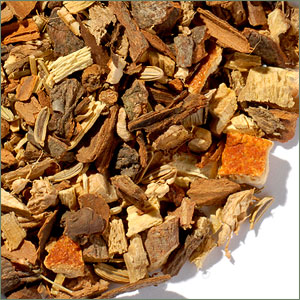 The rich and slightly sweet aroma of Ayurvedic Anti-Strain Tea makes this tea an ideal companion for anyone who needs soothing! A caffeine-free combination of cinnamon, licorice, ginger root, fennel, orange peel, and cardamom. The naturally sweet taste is due to the licorice. Use one teaspoon per cup and steep 5-10 minutes in freshly boiled water.
Average Customer Rating






10/14/2010
Tastes like licorice candy. If you like black licorice you will enjoy this tea. It tastes great. My favorite tea.
09/27/2010
One of the best detox teas that I have tasted.
Reviewer: Carly 11/16/2013
Awesome herbal tea. I've never had anything like it before and couldn't believe how good it was. [I'm already a huge licorice fan, of course.]
Reviewer: Beth 01/20/2013
This is my favorite end-of-the-day tea. The warmth of the spices and the sweet of the licorice is as good as a night cap.
Number of ratings: 4
Log in
to review this product.