Cranberry and Pomegranate Tea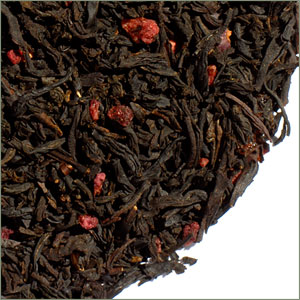 Cranberry and Pomegranate Tea is a flavorful black blend with freeze dried cranberry slices, raspberry & pomegranate pieces and peony petals. A pleasant afternoon pick-me-up. Use one tsp. per cup and steep 3-5 minutes in freshly boiled water.
Average Customer Rating




Reviewer: Mrs. Paula 01/22/2013
This tea not only has a wonderful aroma, but the taste is delightful. I find that a larger amount than 1 tsp per 8 oz gives an even better flavor and no bitterness.This is one of Tea Table's BEST and one of my favorite!
Reviewer: Candace 11/16/2012
This was a bit bland for my tastes but a wonderful smell. It was a great flavor for those that love earl grey. I could boil this all day though and have the whole house smell like this. Next time I'll add some dried cranberries or perhaps mix with a stronger breakfast tea for a change of scent. I found it relaxing perfect for evenings instead of an afternoon pick me up. I probably won't reorder it though unless my husband falls in love with it.
Number of ratings: 2
Log in
to review this product.