Belgian Chocolate Rooibos Tea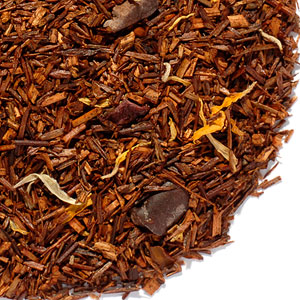 Rooibos just got even better with the addition of cocoa bean pieces and calendula petals in Belgian Chocolate Rooibos. Velvety smooth choice-grade rooibos with a nice, rich chocolate flavor. Caffeine-free. Use 1 tsp. per cup and steep 5-10 minutes in freshly boiled water.

Rooibos (pronounced "roy bus") is made from the needle-like leaves of a caffeine-free bush native to South Africa. It is oxidized like black tea, and is a popular alternative to decaffeinated black tea. Good both hot and cold, it has a mild flavor and won't turn bitter with extended brewing.
Average Customer Rating






Reviewer: Patty 10/24/2015
A mild chocolate flavor. Perhaps not a reorder for me but still enjoyable. It's just that The Tea Table has other chocolate teas I enjoy better.
01/31/2013
I got a sample with my last order and I am in love with this! With a dash of vanilla soy milk and sugar, it tastes a lot like hot chocolate!
Number of ratings: 3
Log in
to review this product.