Russian Earl Grey Tea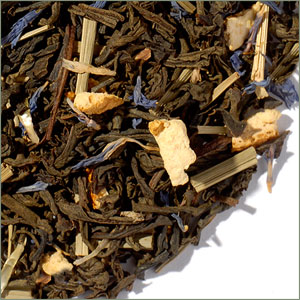 Tea has been consumed in Russia for centuries. The drink was first introduced to the country during the Tsarist era in 1618. The Chinese ambassador to Moscow at the time presented Tsar Michael Fedorovich with several chests of tea as a gift. Although the Tsar accepted the gift with legendary Russian grace, the tea was not very well received at first. The Tsar and the people of his court were accustomed to drinking warm fruit and herbal beverages, therefore finding the new beverage slightly bitter. According to Russian folklore, it was one of Tsar Michael's chefs who came up with the idea of adding fruit and spice to the tea in order to enhance its flavor. Various blends were experimented with using combinations of ginger, salt, orange peel, rice, onions, and various herbs and spices. The most popular of these blends, however, were the more heavily sweetened versions based on citrus fruit. As years wore on, tea consumed in this fashion spread throughout Russia, and samovars, a unique and traditional Russian teapot, became ubiquitous throughout the continent. To this day, Russians are among the highest per capita tea drinkers in the world and enjoy the drink at all times of the day.

Our Russian Earl Grey was created in honor of Tsar Michael and in keeping with the Russian tradition, orange peel and lemongrass were added to the tart character of bergamot (the citrus fruit used to flavor all Earl Greys) creating an unquestionable citrus flavor! Enhanced with cornflower petals. Add a splash of milk to really bring out the citrus overtones of the blend - or add some sugar to sweeten it up Russian style! Use one teaspoon per cup and steep 3 minutes in freshly boiled water.
Average Customer Rating






12/07/2010
Nice, mellow, calming. Remind me of the instant Russian tea mixture only more sophisticated.
Reviewer: Daniel 02/17/2013
My favorite tea by a mile. My every morning begins with a cup of this. Can't recommend enough.
Reviewer: Richard 10/10/2012
A nice light tea for the evening that I will be keeping on hand.
Number of ratings: 5
Log in
to review this product.