Le Marche Spice Rooibos Tea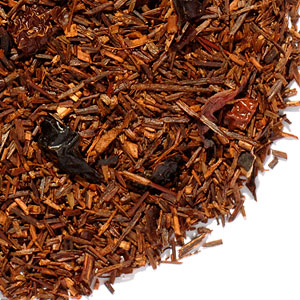 Lots of cinnamon gives Le Marche Spice Rooibos a wonderful spicy hot character - terrific served hot and sensational served iced - try it as a rooibos latte for super taste. Also feels good on a sore throat. Choice-grade rooibos with cinnamon, rosehips, dried apple, almond pieces and hibiscus. Caffeine-free. Use 1 tsp. per cup and steep 5-10 minutes in freshly boiled water.

Rooibos (pronounced "roy bus") is made from the needle-like leaves of a caffeine-free bush native to South Africa. It is oxidized like black tea, and is a popular alternative to decaffeinated black tea. Good both hot and cold, it has a mild flavor and won't turn bitter with extended brewing.
Average Customer Rating





Reviewer: Doug 12/29/2015
This is a fantastic tea! My wife and kids all love this as Ice Tea.
Reviewer: Patty 10/24/2015
Not my cup of tea ... I think it's the hibiscus. Not a fan of any hibiscus teas. I would recommend this tea to those who do.
Number of ratings: 2
Log in
to review this product.