Green Chai Tea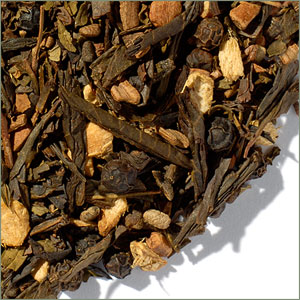 Our blend of Green Chai tea is a delicate China green tea in the sencha style blended with cardamom, ginger, cloves, pepper, cinnamon, spearmint and flavoring. Lovely spiced tea with just a hint of mint makes a delicious winter-time treat. Use 1 heaping tsp. per cup and brew 2-3 minutes in steaming water.
Average Customer Rating




Reviewer: Gloria 01/24/2015
I love the spiciness but would prefer it without the mint. It overpowers the taste of the green tea which I found delicate and lovely.
Number of ratings: 1
Log in
to review this product.