Chocolate Covered Cherry Rooibos Tea - SALE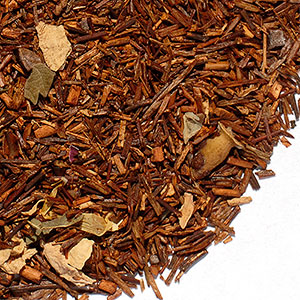 On Sale! Prices listed are 10% off!

Chocolate Covered Cherry Rooibos is a custom blend of choice grade rooibos with cocoa bean pieces and natural cherry flavor. A wonderful taste treat with no guilt! Rose petals, blackberry leaves, and calendula petals enhance the look and aroma. This is a smooth, light cup that makes a great evening treat.

Rooibos (pronounced "roy bus") is made from the needle-like leaves of a caffeine-free bush native to South Africa. It is oxidized like black tea, and is a popular alternative to decaffeinated black tea. Good both hot and cold, it has a mild flavor and won't turn bitter with extended brewing.

Log in to review this product.