Assam Gingia Black Tea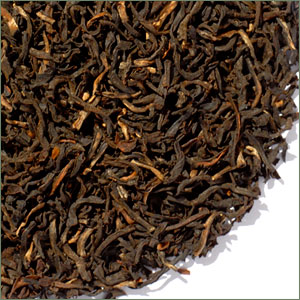 Assam Gingia is a fine single-estate Assam at a good price and has been one of our most consistent best sellers for ten years. If you're looking for a nice Irish Breakfast blend, try this tea. Irish Breakfast is usually a blend of Assam teas, and this single-estate Assam is priced about like a blend. Smooth and malty with golden tips, this tea is a great base for making your own chai or other blends. Also great plain or with milk and sugar as a breakfast tea.Use one teaspoon per cup and steep 3-5 minutes in freshly boiled water.
Average Customer Rating






Reviewer: William 01/14/2012
This was really an amazing tea. I got it to to try an Assam Estate tea and it ended up being a daily drinker. It has a deep and balanced flavor that works whenever you want.
06/07/2011
I LOVE this tea!! I love most Assam teas, but this one has just a hint of added flavor and is wonderful anytime of day.
Reviewer: Stuart 05/13/2015
I didn't enjoy this at first. I found it excessively astringent. But when I brewed it for no more than three and a half minutes instead of my usual four it shined. Thirty seconds can make a big difference! It's a worthy tea all on its own, but I usually blend it [and some Ceylon] with a Keemun or Yunnan to make a tea so good that I actually *want* to get out of bed.
Number of ratings: 9
Log in
to review this product.