Taylors of Harrogate Scottish Breakfast Tea Bags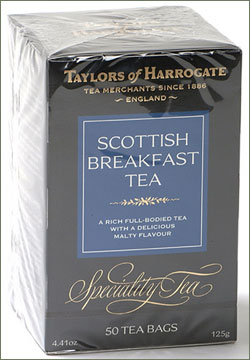 Originally blended for the soft waters of Scotland, Taylors of Harrogate Scottish Breakfast blend can be enjoyed wherever you live. They have selected the very best Assam and African teas produced in the traditional orthodox way where the leaves are rolled to release the colour and flavour. It has an inviting bright colour in the cup and a full, rich flavour. Box of 50 larger-than-average tea bags.
Average Customer Rating






02/09/2014
This is - hands down - the boldest most robustly flavorible breakfast test I have been able to find. It is my number one morning tea [daily]. So good and so hard to find something comparable that I often travel with it.
Number of ratings: 2
Log in
to review this product.