Savoy Stainless Steel Teapot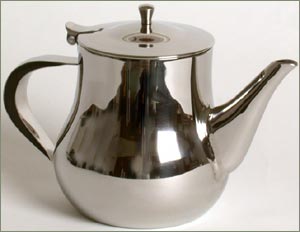 The Savoy Stainless Steel Teapot is a polished high-grade stainless steel teapot in three sizes. Spout doesn't drip, it is dishwasher safe, has a hinged lid, and a stay-cool handle. Built-in strainer holes at the base of the spout will strain larger leaves out as you pour. Unbreakable! Perfect for dorms or offices. Comes out of the dishwasher looking brand new! Small holds 18 oz. (500 mL); Medium holds 35 oz. (1 liter); Large is 47 oz. (1350mL). Please Note: NOT safe for stove-top use.

Log in to review this product.